The Cooler Master HAF 932 as it has proved itself to be a great air cooled solution for gaming enthusiasts. This box has been so cool that hardware lasts much longer than needed.
The Corsair power supplies have improved over time and the HX1000i dominates 99% of machines out there. Most machines have 450W-600W power supplies which is fine for a single graphics card. Given the dual 8-pin connections on extreme video cards, the 750W PSU makes more sense. With dual EPS12V connections 850W and higher PSUs are hard pressed to keep up with growing demands.
MSI motherboards have been relatively reliable. Lower cost Asus boards have not survived nearly as well. With socket AM4, the B350, X470 and X570 chipsets have all been used.
The range of video cards available varies over time with procurements made when digital coin values collapse. Old cards are bought for 10-25 cents on the dollar which saves the studio a fortune. Other video cards are procured privately.
The EVGA RTX 2080 is an extraordinarily powerful video card when it was new. With 2944 CUDA it has enough performance to make games playable at 3840×2160, NVIDIA RTX Ampere and RTX Hopper are options to consider.
Video cards have accumulated. This is driven by the annual marketing by AMD and nVidia selling new cards every fall. Now that GDDR6 is ramping up, new cards are coming to market now supporting it.
Video cards from AMD have settled on 64 shaders per compute unit (CU). So cards like the 28nm R9 Fury with 56 CU have substantial shader counts. The RX 480 has 36 CU but it is 14nm so it uses less power and has a faster clock speed. The LG panel with 3840×2160 resolution needs all the CU I can afford.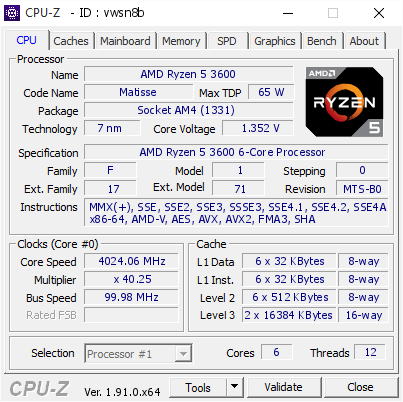 The AMD Ryzen processors are very powerful and they can handle even elite graphics cards. The R5 3600 with 6 cores and 12 threads is quite adequate for handling even the most demanding games. The R5 3600 easily reaches 4.2+ GHz when the workload is high.
The AM4 platform has 48-bit address lines which supports up to 256TB of address space. Early on Microsoft has supported memory mapped files which could potentially be on a large scale file system.
The AMD Wraith Prism CPU cooler comes with the top tier processors which have a higher TDP than the R5 3600 at 65 W. This provides some level of additional protection from overheating when the CPU is saturated for long periods of time. The Wraith Prism is designed for 95W and 105W processors.
The 32GB of DDR4-3200 is far above the mainstream which is still largely using 8GB. The goal with more RAM is to handle the most demanding modern games which are increasingly taking advantage of resources.
The Intel 665p SSD is PCIe 4.0 based.The existing 2048 GB SSD has demonstrated its value. Larger capacity SSD products are inevitable as the prices fall for existing products.
The NVMe SSD has revolutionized the performance of gaming. Loading Windows is substantially faster and game performance is improved as well. This is the reason consoles have jumped onboard too.
The Fenvi AX200 WiFi card provides network access. With an extended reach antenna, the AX200 can be faster than the 1000BASE-T Ethernet when connected to a modern 802.11ax access point that supports the wider 160 MHz channels.
A USB front panel box affords USB-C on the front panel. The rear IO on the X570-A PRO has one USB-C port as well. This affords the opportunity for new peripherals as time progresses. USB-C affords higher speeds which will allow for new opportunities for higher performance media etc. USB-C graphics are used by Apple users for some applications.
Currently there is an LG WH16NS40 and WH16NS60 BD drives installed in the machine. The both drive came with Cyberlink PowerDVD to play media. The WH16NS60 is 4K UHD capable allowing 4K UHD BD media to be played.
At present 4K BD discs are priced much higher than conventional FullHD BD media, Over time 4K media prices should soften as prices for televisions continue to fall and competition from DVD and BD media. Further down the road when 8K televisions become more affordable there will likely be an 8K variant of the optical disk.
The old bluetooth Wacom Graphire CTE-630BT is works well with Corel Painter, the pressure sensitive stylus is handy for digital editing. Windows 10 Ink Workspace also supports the stylus. Other graphics programs vary with support for a digital stylus.